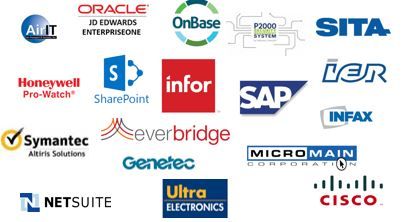 Systems Implementation / Development / Support
More so than in the private sector, for many of the application needs in the public sector – even mission critical business applications – a suitable third party vendor solution or Commercial-Off-The-Shelf (COTS) software can be found. We have implemented and/or worked with many of the leading airport specialty system and general back office systems and equipment providers. DCG provides the full umbrella of implementation services to ensure the successful implementation of these solutions - from requirements definition and process improvement, to sourcing,procurement support, implementation, testing, and training.
From time to time, however, custom development services are still required. DCG can also provide a full range of application development, administration, maintenance, and support services for new projects and for installed applications portfolios, including programming support in those cases where our client owns or maintains the source code. Where applications are maintained by third party vendors or under separate support agreements, we frequently serve as systems administrator and technical IT liaison for the coordination of services and support with the third party provider.
Our implementation and applications development services include:
Business Analyst / Technical Architect

Feasibility/Requirements Study (including life cycle costing; cost/benefit and impact analysis)

RFP Development / Vendor Evaluation

Technical Design

Integration Services

Data Conversion

Acceptance Testing

Business Process Re-Engineering

Procedures Development

End User Training​
​REPRESENTATIVE DEVELOPMENT PROJECTS
eBadge - web-based badging application processing; work flow through signatory approval process; electronic signature; EDMS document storage/retrieval of historical applications; integration with fingerprinting and SIDA CBT training system
Public Web Site - fly2houston.com
Project Management and CIP System - capital improvements planning; programming; design; construction management; contract administration; appropriation tracking; payment tracking
Airport Use Permit System - permitting and registration needs associated with AVI-based ground transportation program
Contact Resource System - central portal to capture key employee information changes and update via EAI synchronization techniques with other applications requiring same current data