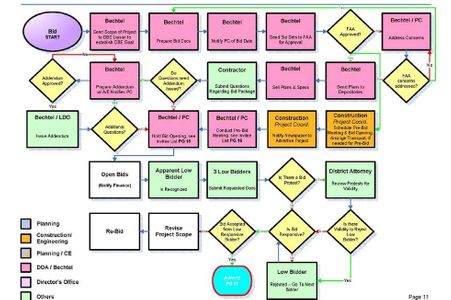 Business Processes
In many organizations, the way of doing business evolves by gradually adding and changing processes over a long period of time surrounding the systems that the organization has implemented. When systems change or are upgraded, too often the surrounding processes receive little attention - the system alone is the focus and the expectation is that the new software will fix all problems. For any system to be successful, the underlying processes must be addressed first or in conjunction with new systems.
DCG provides a full range of business process improvement services - from project specific reviews of specific functions in conjunction with new systems implementations or regulatory mandates, to enterprise-wide productivity improvement programs where we help facilitate and train internal staff to conduct their own improvement work; such as in conjunction with a Balance Scorecard initiative.
Our project scopes and approaches encompass organizational policies, regulations, procedures, work tasks, and work methods in order to design highly efficient work flows, staffing standards, and staffing needs. Work is either performed by our consultants or we work as facilitators in teams, side by side with client business analysts to work through improvements. Then we assist you with benchmarking best practices and determining how to adapt the learning to your organization's culture. We complete our work by facilitating and implementing robust solutions that align your redesigned processes with enabling information technologies. Our goal is to assist your organization in realizing exceptional levels of performance from all of your critical business processes.
The scope of DCG services include:
Facilitated Workshops

"As Is" and "To Be" Analysis/Re-Engineering

Process Documentation

Technology Impacts/Improvements

Procedure Manuals

Best Practices/Peer Review

Benchmarking/Metrics Development

Training

Implementation Support​
REPRESENTATIVE PROJECTS
Integrated Operations Center (IOC) - Dallas Forth Worth Airport

Enterprise Asset Management System (EAM / CMMS) [Kenton County Airport Board]
Enterprise Asset Management System (EAM / CMMS) [Atlanta Airlines Terminal Corp]
Enterprise Asset Management System (EAM / CMMS) [Houston Airport System]
Airport Badging Office Process Improvement / eBadge [Houston Airport System]
AIP Grants Compliance Review [Houston Airport System]
Automated People Mover (APM Bus) Operations Plan [Houston Airport System]
CIP/Planning, Design, and Construction BPI [McCarran International Airport]
CIP/Planning, Design, and Construction BPI [Houston Airport System]
Purchasing and Warehouse Organization [Philadelphia International Airport]
Purchasing and Warehouse Organization [Houston Airport System]
Central Receiving and Warehouse Requirements [Sacramento Airport System]
Municipal Court Operations Review [City of Houston]
Accounting Division Operations Review [Houston Metro Transit Authority]
SAP Blueprint / "To Be" Processes [Houston Airport System]
SAP Projects System - WBS Design [Houston Airport System]
Accounting Division Operations Review [Fort Bend County, TX]
Operations Review - Water Customer Services [City of Houston Dept of Public Works]